First place in the everis eAwards Netherlands 2021 🏆
We very proud to win the eAwardsNetherlands by everis! Really exciting to pitch in front of a live jury and audience as well. Also, great competition from Hica Solutions & Gert-Jan Roelofs. In November we will compete for the global award in Madrid. Thanks to Marta Garayoa for the event!
But, we don't stop there: we are also in the top 15 of the ASN Bank Wereldprijs! Through another pitch next week we hope to make it through of the final of the ASN bank wereldprijs.
---
Not one, but two nominations! 🚀
Out of 4000+ applications, we are selected as Deep Tech Pioneer by Hello Tomorrow! We are recognized as one of the most promising deep tech projects to date. The nomination gives us the opportunity to engage at the biggest deep tech event, the Hello Tomorrow Global Summit 2 and 3 December.
But that is not enough; ASN Bank also selected us for their Wereldprijs 2021! This makes us part of the top 30 initiatives in the Netherlands working on a better future. Great to participate with other Dutch impact entrepreneurs.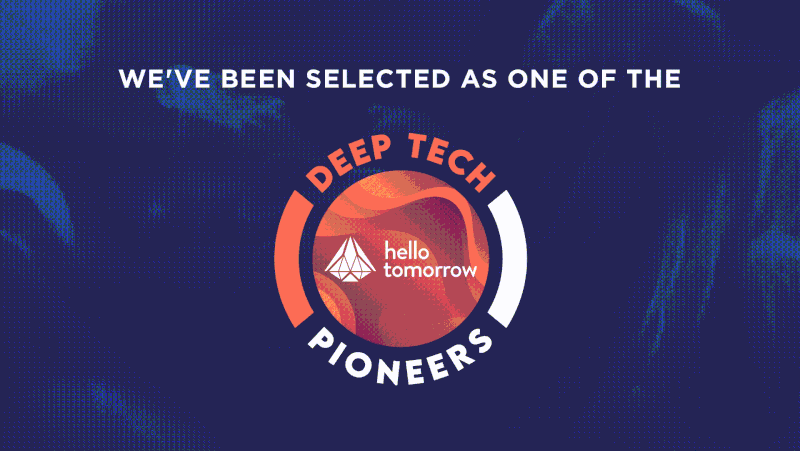 ---
We have won the ING Circulair Entrepreneurship Price! 🏆
We are super proud to tell that we have won! Yesterday, Nigel Visser received the award on Duurzame Dinsdag. Great to see our mission to revolutionize plastic recycling is recognized and supported. With the identification and analysis of high quality, recycled materials we are providing a crucial step in the circularity of plastics.
Also, ING made a nice article about us, our technology and why we want to revolutionize plastic recycling. You can find the article by clicking here.
---
We have measured & identified a plastic mix of 2 grams within a 95% accuracy. With this milestone, we have shown a 100x improvement in sample size in comparison to what is currently possible in the plastic recycling market. We have performed the thermal analysis on a sample mix of HDPE & PP.
From this milestone onwards, we will gradually improve our technology. Our fully developed MADSCAN technology will measure 500 grams with a 99% accuracy, a 100.000x improvement. Besides sample tests, we are also performing tests on materials from our plastic recycling partners. Our technology leads to more and accurate information on an industrial relevant sample size for plastic.
---
Do you want to work on a solution tackling climate change ❓
There is 'high confidence' that the recent growth in emissions is driven by waste management according the new IPCC report. In earlier reports, the energy-intensive production processes of plastic were already identified as main causes of climate change. Recycling is the solution replacing these energy-intensive production processes in plastic.
The recent IPCC report increases the need to tackle climate change. At Veridis, we use science & technology to solve one of the main causes. Our MADSCAN technology is a crucial step in the availability of recycled plastics. It allows quality control for the highest quality at sufficient quantity in recycled materials.
Want to work on future solution tackling climate change? We have a new open internship in our Business Development team. Send your CV & list of grades to info@veridis.tech, or take a look at: https://lnkd.in/dqMD2rYK
Do you want to be amongst the first group of pilot testers? Contact our team directly via info@veridis.tech or inquire via this website.
---
Last week our CBO Wessel gave our pitch at the first big live event since we have joined the HighTechXL program. And he did an amazing job! 👏
This was a spectacular way to finish the nine month program and we can't wait to show you what comes next! Click here to see more details from the event provided by Dispatches Europe.
We want to thank the whole HighTechXL team for their support, and especially Robin van Scheijndel, Toam Jaber, Eddy Allefs & Tim Heijwegen for their close weekly support.
---
See us live at HighTechXL's XL DAY at July 16th! ⏰
After nine months of hard and rewarding work, we are nearing the end of the HighTechXL venture building program. As one of their "Covid Cohorts" we will be pitching our company in front of many investors, multinationals, experts and more. The event will be both online and in-person. It will be our first pitch on stage for such a big audience and we can't wait!
---
We have successfully conducted the TopSector Energy Industry (TSE Industry) subsidy research focused on further research into the analysis of recycled plastics and system specific research questions. We are very grateful for the governmental support in our journey to help plastic recycling take the next step.
---
Pitch @ Innovative and Sustainable Packaging Event
Pitch, pitch, pitch 🗣️
Yesterday, we presented at the Innovative and Sustainable Packaging Event from Kennisinstituut Duurzaam Verpakken (KIDV). As innovator in plastic recycling, we discussed our technology with experts from the packaging industry. Also great to hear from experts like Martine Brandsma from Nationaal Testcentrum Circulaire Plastics on how to tackle the problems in plastic packaging.
Our MADSCAN technology is a crucial step in the availability of recycled plastics in packaging. It allows quality control for the highest quality at sufficient quantity in recycled materials.
---
Our CEO Nigel Visser has been selected as one of the 200 nominees for the Sustainable Young 100. Please vote here and got Nigel and Veridis to the Nr. 1 spot!
---
We keep on going and growing 🚀
We are through to phase 3 of HighTechXL's Venture Building program. This means we keep on working towards the revolution in plastic recycling with the help of the great people at HighTechXL. During the program, we were able to grow the team and venture for our Minimum Viable Product.
---
This week, we will showcase at the Hannover Messe!
The world's leading trade fair for industrial technology. Our CEO Nigel Visser will showcase how we approach the revolution in plastic recycling. Our innovative quality control for plastic recycling fits with improved industrial standards for recycled plastics.
---
We are proud to be chosen as one of the 11 startups to join the Alliance to End Plastic Waste!
The Alliance to End Plastic Waste entails 50 multinationals, with the common goal to reduce plastic waste. Our innovative technology was recognized to do just that, and we are excited to join this movement. Through the End Plastic Waste platform, we can showcase our innovative technology and accelerate towards a circular plastics economy.
---
We have completed Phase 1 of HighTechXL's Venture Building Program ✔️.
Together with their help, we have built a strong foundation for analysis in plastic recycling. Now, we will move forward and continue developing through phase 2.
---
Successful pitch at XL-Day
We pitched at HighTechXL's XL-Day. It was a great opportunity and experience to pitch in front of more than 200 people including many investors and potential partners. And, even more important, the audience was convinced that plastic recycling could be improved drastically with our solution.
---
We have received a subsidy of €70.000 through the TopSector Energy Industry (TSE Industry) for further research into the analysis of recycled plastics. 📈
---
We are very happy to announce we have officially joined the high tech startup accelerator HighTechXL, part of the International Top Five List of Startup Accelerators by Perceptionbox. In this 9 month program we will develop all the aspect of our business and product as well as receive many opportunities to pitch to investors and interesting parties.
---
We were mentioned by the the President of the Vrije Universiteit Amsterdam Mirjam van Praag in an interview about the energy transition: amsterdameconomicboard.com/nieuws/de-energietransitie-bestaat-uit-heel-veel-deeloplossingen
---
On 10-07-20 Veridis was officially incorporated in Amsterdam with the help of Notariskantoor Van Zaane. 📄
---
For the first time since the initial idea for a scaled up DSC, we have identified the plastic melting peak of HDPE using a two grams proof of concept version of our envisioned product.